WWII B-17 bomber flies in Pocatello regional airport | Local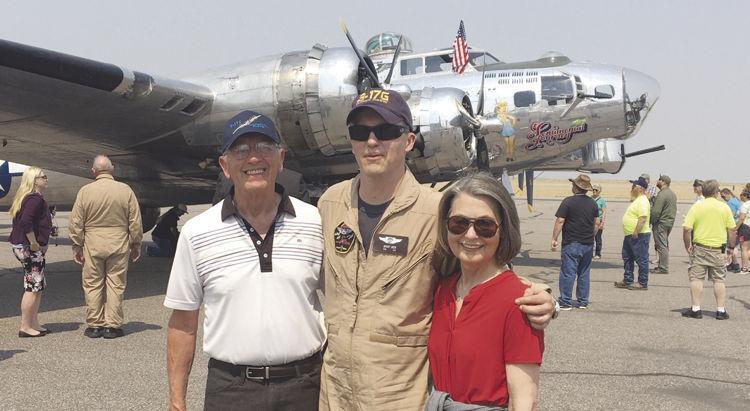 POCATELLO – A 41-year-old man who grew up in Shelley and graduated from high school there in 1997 was the co-pilot of a World War II B-17G bomber that landed at the Pocatello regional airport on Monday .
Brent Beck said he grew up reading about the B-17 and its role in WWII.
"As a kid I always thought it was a neat plane," he said.
In fact, there was a library in Idaho Falls that had a video of this plane in flight.
"And I always thought it was really cool and that's what started for me," he said.
His mother, Joyce Beck, 69, of Shelley, said she once wondered what motivated him to fly the plane.
But then she visited people for the last few days and listened to how much it meant to them to see him.
"It's a wonderful thing that they can share this with the world to show the price that has been paid," she said.
Dozens of people witnessed the landing of the B-17 at the airport and visited the pilots.
Brent Beck says it is interesting and rewarding to fly the plane.
"It's really good because there are three people up front," he said. "There is the pilot, the co-pilot and the flight engineer."
So the working relationship between the three is really important, he says.
And it's also fun to learn what people have been up to in their piloting careers.
Everyone who flies the plane has a unique background.
"They come from all over the United States," he said.
For example, one of the people they worked with was a test driver for racing cars.
And they're all really great people, according to Beck.
"That's what makes it really important and a lot of fun," he said.
Beck himself was appointed a second lieutenant in 2004 and was promoted to the rank of major. He has made several deployments from Little Rock Air Force Base.
And he flew the U-2 high-altitude aircraft for about five years before leaving the military in 2015.
He entered the program with Airbase Arizona Commemorative Air Force when he once passed Mesa Arizona to chat with people there.
He says the all-volunteer effort is an important way to show what the plane did during the war.
Plus, the generation that flew the B-17 is dying out, so keeping the plane flying is a way to preserve that legacy and present it to their families, he said.
He says that often people will come and mention that their grandfather, uncle or cousin flew in the B-17 during WWII.
"So that connection to the past for them and the fact that it's a tangible thing that they can see and touch and feel and experience what they've been through is really important," said Brent Beck.
Additionally, the Arizona Commemorative Air Force Base is one of the few organizations to offer living history rides aboard the B-17.
Prices range from $ 95 to $ 850 for flights. Entire planes can also be purchased exclusively for groups or families.