Two are seated to pilot the Port Authority ship | Local News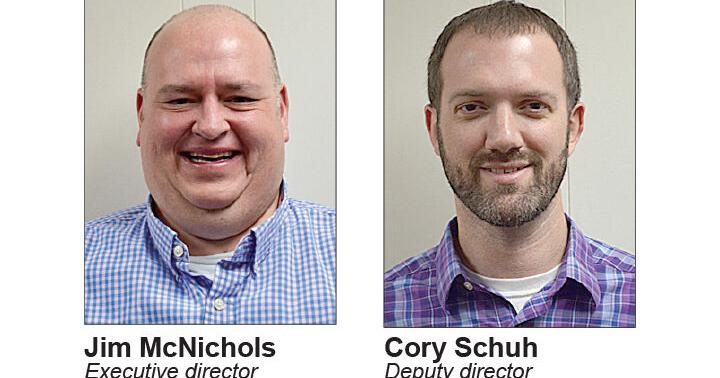 Two heads are better than one.
That's the thinking of the Port Authority of Jefferson County Board of Directors, which recently hired two people to run the operation.
The council selected Jim McNichols, 43, of Manchester as executive director of the authority and Cory Schuh, 34, of Hillsboro as deputy director.
McNichols succeeds Neal Breitweiser, who stepped down in late August after serving as executive director for three years.
"The original plan (when Breitweiser was chosen) was to hire two people, but that didn't work out," said Derrick Good, chairman of the board.
"This time, we had planned to hire only one, but these two applications made us lose our minds. We had money in the budget and now seems like a good time to move in that direction.
Good said the board received multiple applications and interviewed five people before deciding on McNichols and Schuh.
McNichols has worked for most of his career in the public sector, working for state government in former Gov. Matt Blunt's office and for the past seven years as Director of the Senator's District Office. American Blaine Luetkemeyer (R-St. Elizabeth).
McNichols also ran Luetkemeyer's office in Washington and worked closely with elected officials in Jefferson and Franklin counties.
"I have worked for many years with stakeholders in Jefferson County, including the Port Authority and the Economic Development Corporation," McNichols said.
"I was involved in the discussions – but not necessarily the decisions – that led to the arrival of the Delta Queen at Kimmswick and the developing cargo container port at Herculaneum," he said.
Schuh, a 2006 graduate of Festus High School, earned a bachelor's degree in business administration from Southeast Missouri State University and a master's degree in commerce from Webster University.
After graduating from SEMO, Schuh said, he accepted an internship at Jefferson Regional Medical Center (now Mercy Hospital Jefferson) in Crystal City.
"It turned into a full-time position," he said, as a contracts administrator.
In 2012, Schuh joined Home Service Oil Co. as Director of Business Development and rose through the ranks to Director of Marketing.
When the Port Authority job opened up, he said he knew he wanted to apply.
"I wanted to support my community that I grew up in and help bring business and economic growth to the county where my family and friends live," he said.
Good said the contacts the two have made over their careers will be invaluable in their new roles.
"Collectively they have a lot of experience that the Port Authority can draw on," he said. "Jim really understands business and government and how they work together. He has a lot of connections from Jefferson City and more and he knows how to navigate the system to get things done.
"Cory has a lot of youthful energy, but a lot of business experience for someone his age. He also has a lot of good connections locally," Good said. "I think the two will complement each other very well."
McNichols, who started Jan. 18, and Schuh, who started earlier in January, said they've already begun to figure out how they can mesh their operations.
"With Cory's experience in the private sector, he can identify how we can do things procedurally differently. If business operations are disrupted, this will free me to go out and meet with business owners and organizations we need to connect with. And when I'm out of town, Cory can meet some local contacts.
Schuh said while at Home Service Oil he belonged to "almost every chamber in the county," as well as the Jefferson County Growth Association.
He has also served as president of the Missouri Petroleum Marketers and Convenience Store Association and the St. Louis Oil Men's Club.
"He has a lot of contacts with the types of businesses that might be interested in the Port of Herculaneum," McNichols said. "We envision this as more than just a port.
"There will be companies that are interested in serving the port and its operations – warehousing, trucking, supplying fuel to trucks and food to truckers – many associated operations."
Good said McNichols' annual salary would be $68,000 and Schuh would receive $58,000 per year.
Breitweiser received an annual salary of $65,000 plus benefits.