The story of the rugged Dornier 228 turboprop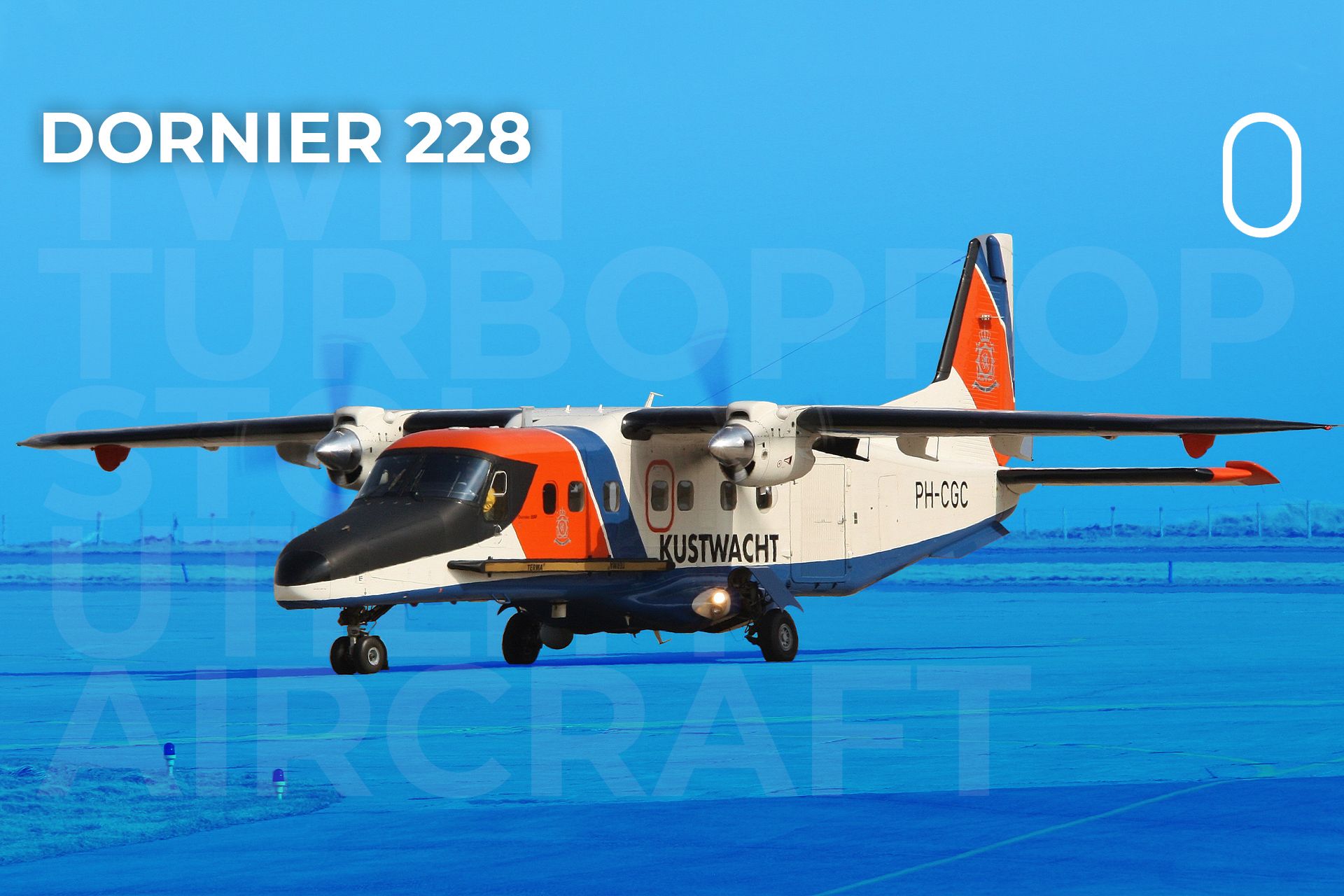 Combining a strong structure with versatile internal capability, the Dornier 228 turboprop has proven itself as a rugged utility aircraft that can also accommodate smaller passenger loads over the past four decades. Let's take a closer look at this niche aircraft that carved out a range of unique roles during this time.
Development
In the late 1970s, German aircraft manufacturer Dornier took on the challenge of designing a new high-tech turboprop aircraft that could be deployed in a variety of roles. After spotting a hole in the market for a small commuter-type airliner that can accommodate up to 19 passengers and as many De Havilland Canada (DHC) Twin Otters around the world near the end of their useful life, Dornier designers set about designing the new aircraft.
However, to increase the versatility of the new aircraft, the designers' specifications were expanded to incorporate features that would allow the new aircraft to carry cargo, perform various other specialized missions, and operate from unpaved surfaces. . Two variants were planned, one with a capacity of 15 passengers and a stretched version that could carry up to 19 passengers, both with a 1-1 cabin layout.
In June 1979, the Dornier flight tested a new high-tech wing design for the new aircraft, which at this point had been designated as the Dornier 228.
Using a modified Dornier Do-28 Skyservant testbed aircraft fitted with the new wing design known as 'TNT' ('Tragflügel new technology,' resulting in new airfoil technology) and powered by a pair of 533 kW (715 hp) Garrett AiResearch turboprop engines, this aircraft undertook a 30-month flight test program. During this period, seven different propeller designs were evaluated, among other key components.
Characteristics
The Dornier 228 was designed as a twin-engine turboprop capable of carrying up to 19 passengers or cargo. The aircraft offers short takeoff and landing (STOL) capabilities, allowing it to operate from unprepared, unpaved and grassy surfaces and specialize in hot and elevated environments.
This ability is attributed to the unique design of the TNT wing, capable of generating large amounts of lift at slow speeds.
The rectangular fuselage section of the Dornier 228 and its large side-loading doors make it particularly suitable for utility missions, a market targeted by Dornier from the start. The Dornier 228 is generally promoted for its versatility, low operating costs and high levels of dispatch reliability – up to 99%.
In early marketing materials, it was claimed that no other aircraft in the same class as the Dornier 228 could carry so much cargo or so many passengers over such a fast distance.
Dornier 228-200 Specifications
Performance – Maximum cruising speed 266 mph (428 km/h)
Range with a maximum load of 19 passengers – 702 miles (1,130 km)
Weight – curb weight 6,803 lbs (3,086 kg); maximum takeoff weight 12,566 lb (5,700 kg)
Wingspan – 55 feet 8 inches (16.97 m)
Length – 54 ft 4 in (16.56 m)
Height – 15 ft 11 in (4.86 m)
Wing area – 344.3 square feet (32 m²)
Service history
The first definitive Dornier 228 equipped with the newly designed fuselage and tail structure first flew in March 1981. German certification followed at the end of the same year, on December 18, 1981.
The first production Dornier 228 was delivered to Norwegian commuter airline Norving (no longer in operation) in the summer of 1982. It was a -100 series version of the aircraft with a shorter overall fuselage length.
Shortly after the first deliveries, a Dornier 228-100 company demonstrator was lost while undergoing certification testing for the United Kingdom's Civil Aviation Authority (CAA) in Ausburg, Germany. A total of 35 Dornier 228-100s were built before the company turned to the longer 200 series model, which offered operators greater capacity and better operating economy than its smaller sibling.
Development of the longer 200 series Dornier 228 culminated with the type's first flight on 9 May 1981. This longer variant became the type's standard production model. The first operator of the larger 200 series model was Jet Charters in late 1982.
British (CAA) and American (Federal Aviation Administration) certification was obtained on April 17 and May 11, 1984, respectively. As orders began to be received by the manufacturer, the production rate of the Dornier 228 was increased to three aircraft per month in mid-1983.
Dornier's sales plan called for up to 300 Dornier 228s to be needed by the end of the 1980s – a demand that the small manufacturing facility in Oberpfaffenhofen, Germany could not meet. Thus, in November 1983, a license agreement was signed between Dornier and Hindustan Aeronautics Limited (HAL), based in India.
This major license production and progressive technology transfer agreement allowed HAL to produce Dornier 228 aircraft under license from Dorner, and a separate production line was established in India. HAL produced its first Dorner 228 aircraft in 1985.
Over the years, Dornier has offered the 228 in a wide range of variants to meet the demands of the wide range of customers attracted to this type. Improved variants were offered, as were those equipped with optional equipment for various special missions, such as maritime patrol, surveillance, cargo operations, border patrol and military operations.
In 1996, due to increasing financial difficulties faced by Dornier, it was announced that all future manufacturing operations for the 228 would be transferred to India, where the 228 was in heavy use by the Indian military.
In 1998, activity on the German production line was halted, allowing the German manufacturer to focus on producing the largest Fairchild-Dornier 328 turboprop, on which the company's fortune (and survival) now rested. .
The Dornier 228 reborn
In 2002, the Swiss aerospace company RUAG took over the production rights for the Donier 228 from Fairchild-Dornier. RUAG acquired the Dornier 228 type certificate in 2003, and in 2007 announced that it would launch a modernized version of the aircraft, designated as the Dornier 228 Next Generation, or Dornier 228NG.
On August 18, 2010, the Dornier 228NG received its airworthiness certification from EASA (European Aviation Safety Agency). While RUAG maintained final assembly of the Dornier 228 in Germany, most airframe sub-assemblies, such as wings, tail and fuselage sections, continued to be produced by HAL in India.
While the exterior design of the 228NG remained nearly identical to the previous 228-200 model, the new version featured an upgraded five-blade composite propeller, more powerful engines, and an advanced glass cockpit with electronic instrument displays and other upgraded avionics. . The first delivery of a 228NG was made to Japanese operator New Central Aviation in September 2010.
RUAG decided to suspend production of the Dornier 228NG after the completion of a first batch of eight aircraft in 2013. However, breathing new life into the program, in 2014 RUAG and Indian group Tata (no strangers to aerospace themselves) have signed an agreement for Tata to become a key supplier to the 228NG programme.
Following the agreement with Tata, production resumed in 2015 and deliveries of four aircraft per year were planned from 2016.
In February 2016, RUAG announced that it was set to begin serial production of the Dornier 228NG on its German production line in the middle of that year, with the company reporting that the assembly line could produce a maximum of 12 aircraft per year. However, this scale of production never materialized and RUAG sought to sell the rights to the Dornier 228 design soon after.
So far, around 370 Dornier 228s and 228NGs had been built in total. While most of them were the 19-seat passenger variant, many others found themselves operating in more specialized missions, such as those mentioned above.
A third generation for the 228
On September 30, 2020, the European division of the American aerospace and defense giant General Atomics purchased the production rights for the Dornier 228NG as well as the production line in Oberpfaffenhofen from RUAG. The sale was finalized in February 2021.
The American company declared at the ILA Berlin airshow in June 2022 its intention to restart production of the Dornier 228 twin-turboprop, with the first example rolling off the final assembly line in Oberpfaffenhofen in 2024.
While General Atomics sees huge potential for the rugged turboprop in the future, they are also undertaking studies to future-proof the design to meet modern demands. The organization is currently working alongside MTU Aero Engines and the German aerospace research center DLR to develop a hydrogen fuel cell powertrain for this type.
The company provided a single 228 test bed aircraft to DLR and MTU for this fuel cell conversion project. The work involves replacing the Honeywell (formerly Garrett) TPE331 port turboprop with a 600 kW electric motor powered by a hydrogen fuel cell system. The first flight of General Atomics' hydrogen-powered 228 is scheduled for 2025.
General Atomics isn't alone in using the Do 228 as a test bed for fuel cells. ZeroAvia is also converting a pair of 228 aircraft to test its 600kW ZA600 powerplant, as Simple Flying recently reported.
ZeroAvia is hard at work producing a hydrogen version of the Dornier 228. Photo: ZeroAvia
The future looks bright for the 228
With many aircraft still in service and several new operators expressing interest in a third-generation 228 alongside new hydrogen-powered variants hitting the runway, the future of the 228 looks brighter than it has since. long time.
While the plane apparently remains a 40-year-old design, with new upgrades and technologies incorporated, there's still plenty of life in the tough, versatile little turboprop.
Have you ever flown a Dornier 228? How do you see its future prospects? Let us know in the comments.
Source: General Atomics, ch-aviation, FlightGlobal