The scariest place this season? Denver International Airport | Subscriber content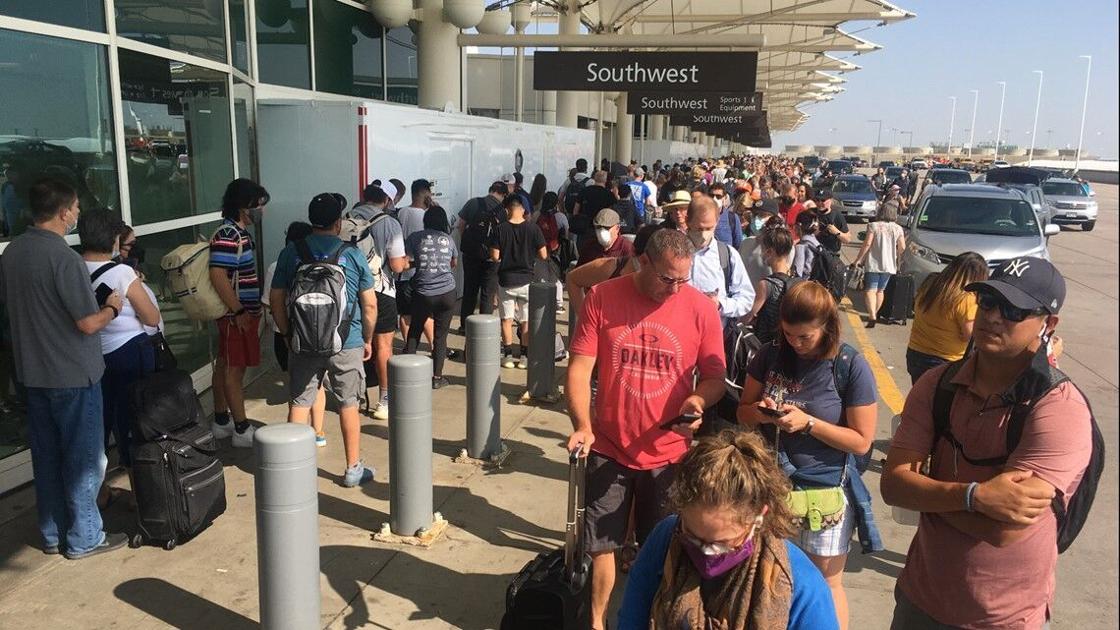 Denver International Airport CEO Phil Washington is off to a rough start.
Since he was appointed to his new role in June, the airport has seen huge parking shortages, a concierge strike, hours of security waits thanks to a lack of TSA workers and a maze of building walls, a multitude of Southwest Airlines flight cancellations, train malfunctions that have stranded passengers in the tunnels, a spike in car thefts in its lots and, sure sign of the end of time, a naked woman with a bottle of water running through the halls.
" How are you doing ? Where are you from ? the naked lady asked passers-by in a video shared with CBS.
His greetings made me wonder if this was part of a new airport ambassador program to distract us from all the other DIA woes.
DIA, my friends, is a nightmare.
As pent-up demand sends Americans en masse back into the air, problems begin to pile up like a pile of suitcases spilling out of a baggage carousel.
I recently drove through the airport on the way to Seattle and encountered a sort of transit hellish landscape. First, of course, you have to drive all the way to Kansas to get there, so you're already arriving in a bad mood. Next you need to park in Nebraska as 17,000 parking spots in the Pikes Peak and Elbert lots are closed due to a lack of shuttle drivers. Last weekend, airport staff told people not to drive to the airport because for the first time they were almost out of parking.
Once inside you have to navigate so many man-made walls due to the construction that it quickly becomes a game of "Am I going to make my flight on time?" All the while you hyperventilate in your required mask and social distancing is impossible, the airport is so crowded. Then, of course, there's this centralized rumble of security lines in the Great Hall. Why can't the DIA move security in the halls like so many other airports, so there are several smaller lines rather than a huge maze of checkpoints? I waited about an hour in that security line, then naturally my gate was 10 km at the end of hall B, and of course several of the moving walks were not working, so I took my 10,000 steps just arriving. to my portal.
But at least the trains were running. In August, thousands of people had to wait several hours after a circuit breaker cut off four of the trains. The lines backed up so far that they meandered outside the terminal, and eventually people were transported by bus across the tarmac. Repairs took 10 hours after emergency personnel escorted travelers through the tunnel walkways and then swept the tunnel to make sure they hadn't left anyone behind.
The new CEO has kept a low profile during this stack of woes, leaving his communications managers to handle all criticism from passengers and the press. We have requested an interview several times in recent weeks, but were told that Mr. Washington was not available.
There was some conflict, you may recall, after it was revealed that Mayor Michael Hancock nominated Washington for the top DIA position without looking for other candidates. Hancock said he did it to save time and money, as he was convinced Washington was right about the job.
In addition, Washington had no airport experience prior to accepting the position. He has worked in the management of transportation agencies such as RTD in Denver and LA Metro in Los Angeles.
Passengers like me are starting to wonder who's running the store.
To be fair, Washington has inherited many of its problems, such as the giant construction project in the Great Hall which has been repeatedly delayed by contract issues.
Phase 2 of the Great Hall project started this summer (before the end of Phase 1) and is expected to eventually improve things by improving security and increasing capacity, including a new security checkpoint at level 6 west. But beware: construction will not be completed until 2024.
And some of the problems with AID can be attributed to simple growing pains. Over the past 26 years, DIA has grown from 33.1 million annual passengers to over 69 million passengers, making it currently the third busiest airport in the world, according to Alex Renteria, head of the public information from DIA.
To cope with this growth, DIA is building 39 new hall doors during the expansion project, increasing the overall capacity of the airport by 30%. Some of these lobby extensions will also have some pretty cool features, like outdoor patios and fireplaces.
Much of DIA's problems can be attributed to the same shortage of workers that the whole country faces. Around 30,000 people work at DIA in total, and currently there are around 1,500 open jobs.
The airport holds job fairs to find employees and the Transportation Security Administration (TSA) even offers new security employees $ 1,000 bonuses, CNBC recently reported.
On the parking front, the hope is to hire enough drivers to open the Pikes Peak and Mount Elbert grounds by the end of the year. The Pikes Peak Lot was scheduled to open temporarily this weekend, then close again on Saturday night.
"We understand that construction is frustrating and that the long lines are really frustrating," said Renteria, the airport spokesperson. "We're doing our best to make it a brief moment in the history of our airport. Very soon it will be a state-of-the-art airport that people will be really proud of, and we really look forward to that moment. "
The bad news is that this is all going to get worse over the next few months as the holidays roll in and the busiest days at the airport return. Renteria does not expect lines to decrease much until the DIA staff shortages are over.
It would be nice to hear from the new CEO that somehow DIA will be able to handle the vacation crush a little better than it does now. Renteria said that Washington is currently focusing on the "big picture" of Project Vision 100, which is to prepare the airport to handle 100 million passengers per year by 2030-2035.
But instead of a sighting in Washington, if you find yourself tearing your hair over the next few weeks, just look for a naked woman running.
She might give you a nice glass of water from her water bottle.