Skydiving business moves to Norwich Airport | Local News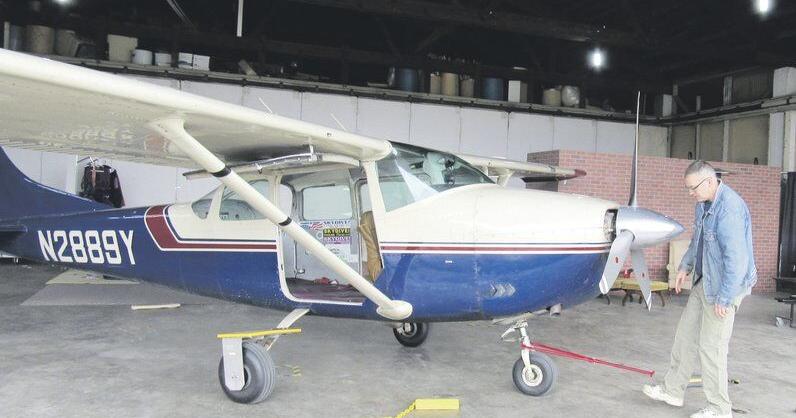 A love of skydiving has led a new business to take flight at Lt. Warren E. Eaton Airport in Norwich.
John Snurkowski said he talked with his father about things they had never done but wanted to try, and skydiving was mentioned. "The next day my wife reminded us of what we had said and we decided to go that day," he said. "I loved it and got hooked."
That was 20 years ago, and Snurkowski has done about 5,000 jumps since then, he said. He also earned his pilot's license.
"My wife was sick of me letting her jump on the weekends, so she decided to give it a try and got hooked too," he said. His wife, Kathleen, also completed about 5,000 jumps, he said. Snurkowski is certified by the Federal Aviation Administration as a commercial pilot and senior parachute rigger, which allows him to repair parachutes. "A parachute must be repacked every 180 days," he said. He's been taking people on tandem jumps for 15 years. Kathleen also takes people on tandem jumps, he said.
"Our children came and watched us jump," he said. When the children turned 16, they also started jumping, he said. The age limit is now 18. Their son, John, competes in the classic precision category and has parachuted 50 times to set a state record for the number of jumps per day, he said. "Last Sunday I flew and he jumped."
"We moved to the area four years ago for work and our son convinced me to be his business partner," Snurkowski said. John is a medical assistant at Bassett Medical Center and Kathleen works at DCMO BOCES. They opened Just Jump Skydiving at Cooperstown Airport, but the drop zone was a "small strip of grass" and the runway was unpaved the whole way, he said.
John said Norwich Airport Administrator Shane Butler approached them about moving their business to that airport. The Norwich facility has a paved runway, fuel access and a larger drop zone, Snurkowski said. "The equipment is well suited," he said.
Butler said the move would also help the airport and the region. "This will help the airport in many ways including having another long term tenant, additional fuel sales as they fly very frequently, greater public engagement at the airport as spectators and attendees have more reasons to go, and economic development," he said.
Just Jump Skydiving is open on weekends, weather permitting, Snurkowski said. Low clouds and windy conditions do not allow skydiving, he said.
He said he loves jumping in the area and enjoys taking people for their first jump. "Every first jump is unique and different and I love sharing that with the person," he said. "Some people like to sit and float, while others are aggressive and want to flip and turn. The fall foliage is phenomenal."
He said some of the sights skydivers can see include Oneida Lake, Hunter Mountain, the Green Mountains in Vermont and Elk Mountain in Pennsylvania. He said the only place he had skydived with a better view was Arches National Park in Utah.
Snurkowski said the youngest person he had skydived was 18 and the oldest was 92 and he had taken a few paraplegics.
"As long as they feel healthy, I'll take them," he said.
For more information visit justjumpskydiving.com
Vicky Klukkert, editor, can be reached at [email protected] or 607-441-7221. Follow her @DS_VickyK on Twitter.