Senator Markey and Rep. García introduce legislation to increase wages and benefits for airport workers nationwide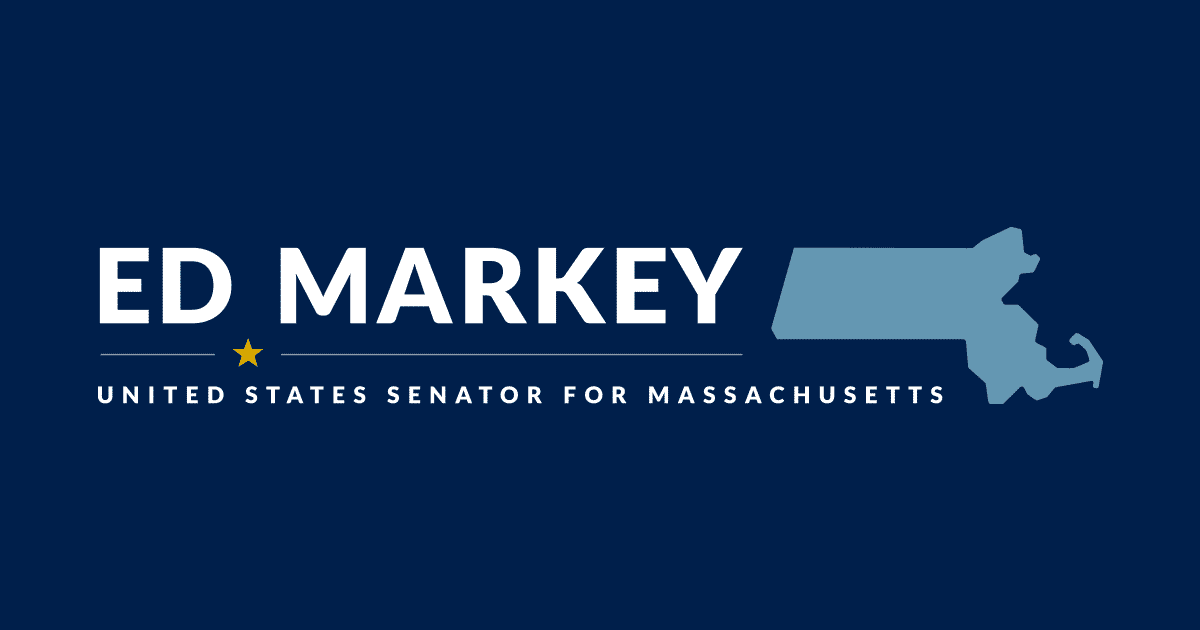 'Good Jobs for Good Airports Act' would raise labor standards for airport service workers who receive federal funding
Washington (June 16, 2022) – Today, Senator Edward J. Markey (D-Mass.) and Congressman Jesús G. "Chuy" García (IL-04) held a press conference [LINK] with airport workers and union leaders to announce the introduction of the Good Jobs for Good Airports Act, legislation that would give airport workers the pay, benefits and work standards they deserve after serving on the front lines of our nation's aviation system and keeping airports safe during a global pandemic, disasters weather and peak seasons. In the face of continuing health risks, airport service workers — including cleaners, wheelchair attendants, baggage handlers, concessionaires and security personnel — continue to play a vital role in keeping Americans moving. This legislation would improve job quality for hundreds of thousands of airport service workers – a largely black, brown and immigrant workforce – by setting minimum wages and benefit levels across all major airports that receive federal funding.
Other Senate co-sponsors include Majority Leader Chuck Schumer (DN.Y.), Senators Richard Blumenthal (D-Conn), Cory Booker (DN.J.), Jeff Merkley (D-Ore.), Chris Murphy (D-Conn.), Alex Padilla (D-Calif.), Bernie Sanders (D-Vt.), Chris Van Hollen (D-Md.) and Elizabeth Warren (D-Mass.), And in the House from the representatives, Reps. Eleanor Holmes Norton (DD.C.), Nanette Barragán (D-Calif.), Karen Bass (D-Calif.), Earl Blumenauer (D-Ore.), Jamaal Bowman (DN.Y.) , Brendan Boyle (D-Pa.), Sean Casten (D-Ill.), Gerry Connolly (D-Va.), Madeleine Dean (D-Pa.), Mike Doyle (D-Pa.), Adriano Espaillat (DN .Y.), Dwight Evans (D-Pa.), Pramila Jayapal (D-Wash.), Hank Johnson (D-Ga.), Barbara Lee (D-Calif.), Andy Levin (D-Mich.), Carolyn Maloney (DN.Y.), Greg Meeks (DN.Y.), Jerrold Nadler (DN.Y.), Grace Napolitano (D-Calif.), Donald Norcross (DN.J.), Frank Pallone (DN. J.), Donald Payne Jr. (DN.J.), Mark Pocan (D-Wis.), Ayanna Pressley (D-Mass.), Jamie Raskin (D-Md.), Jan Schako wsky (D-Ill.), M ikie Sherrill (DN.J.), Albio Sires (DN.J.), Dina Titus (D-Nev.), Paul Tonko (DN.Y.), Ritchie Torres (DN. Y.), David Trone (D-Md.), Juan Vargas (D-California), Nydia Velázquez (DN.Y.) and Bonnie Watson Coleman (DN.J.).
The legislation also serves to improve the overall quality of the country's airports and provide passengers with safe and reliable air travel. Studies show that fairly compensating airport service workers with decent pay and benefits improves airport services and safety by reducing turnover and ensuring airports have an experienced workforce to serve passengers and respond to emergencies.
"Workers are the engines of our economy, and they are rising up to demand the dignity and pay they deserve for their essential work," said Senator Markey. "Airport service workers have kept Americans moving safely through two years of a global pandemic, so as our airports begin to recover, we cannot let the status quo fly. My legislation requires any airport that receives federal funding to put its own workers first class by increasing their benefits and wages fairly. From baggage handlers at Boston Logan to cleaners at Houston Hobby, hundreds of thousands of airport service workers across the country have long been waiting for a raise.
"Every day, airport workers help more than a million Americans fly, handle bags, staff concessions and kitchens, and provide security so people can can do business, go on vacation or see their loved ones without a hitch", said Chief Schumer. "This vital work makes air travel possible, and the Good Jobs for Good Airports Act would ensure that the men and women who keep the air transport industry flying are paid a living wage. The pandemic has brought to light the need for these essential workers to support the healthcare system, commute with essential supplies, and more, and I was proud to champion $5 billion in the payroll support package. for employees of airport contractors, but these workers need a long-term solution of fair wages and benefits that Good Jobs for Good Airports Act provides. »
"Airport workers risked their own health and the safety of their families to keep America moving during the pandemic. The least we can do is make sure they have good wages, decent benefits and safe working conditions," said Congressman García. "Starvation wages don't fly, and our legislation ensures that airport workers nationwide get the same benefits and wages that workers fought for and won at airports in Chicago and other places. Across the country."
"Frontline airport workers across our country deserve decent wages and fair benefits. Their hard work and resilience kept transportation hubs operating during the darkest days of the pandemic and continue to serve travelers as they return to the skies," said Senator Blumenthal. "As essential employees, airport workers, including security personnel, service providers and baggage handlers, deserve adequate compensation and protections like those already provided to some of these workers in states like Connecticut. I am proud to join this effort to support the backbone of our transportation network."
"Airport service workers — a workforce made up largely of black, brown and immigrant workers — have faced deteriorating working conditions for years as the airline industry has steadily cut benefits and opportunities for wheelchair attendants, porters and caterers. I have fought for years to improve conditions for these workers and I am proud to support the Good Jobs for Good Airports Act which will help ensure that these frontline workers receive the pay, benefits and safe working conditions they deserve," said Senator Booker.
"Essential workers are the backbone of America", said Senator Padilla. "In the midst of a global pandemic, airport service workers have kept travelers safe, but their pay and benefits often don't reflect their hard work and sacrifice. That's why I sponsor the Good Jobs for Good Airports Act to finally give our essential workers the pay and dignity they deserve.
"Our airports – and the workers who operate them – are vital to our country's economy, transporting millions of people and goods to different destinations every day. It is long overdue for this workforce to receive the pay, benefits and working conditions they deserve. That is why I am fighting for this legislation to ensure improved wages, benefits and working standards for our airport employees," said Senator Van Hollen.
"Airport service workers are essential workers who help keep our nation's transportation systems safe and running smoothly, even during a global pandemic – but far too often they aren't paid fairly for their crucial work." , said Senator Warren. "The Good Jobs for Good Airports Act will help ensure that airport service workers finally get the compensation they deserve. I am pleased to join Senator Markey on this bill.
A copy of this legislation can be found HERE. A one-page copy of this legislation can be found HERE.
Specifically, this bill:
Prevent small, medium, and large airport hubs from accessing federal funds unless airport service workers receive prevailing wages and benefits established by the Department of Labor;

Require airports to ensure that service workers employed by vendors (such as restaurants and retail stores) receive prevailing wages and benefits;

Apply to $11 billion in airport funding each year, including $3.2 billion in Airport Improvement Program grants, $3.5 billion that airports receive from passenger facility fees, and $4 billion in dollars of funds under the bipartisan Infrastructure Act.
The Good Jobs for Good Airports Act is approved by SEIU, CWA, Unite Here, the Transportation Workers Union, the International Brotherhood of Teamsters, the International Association of Machinists, the Association of Flight Attendants-CWA, 32BJ SEIU, SEIU Local 1, SEIU USWW, SEIU 6, SEIU Local 49, SEIU Local 26, SEIU Local 105 and SEIU Texas.
"Workers like me are on the front lines of keeping our airports running. This bill does not change the lives of people like me. This will finally stabilize air travel by addressing staff shortages, reducing turnover and ensuring there are enough trained personnel to drive a safe and secure aviation system," Ababuti Oloki, Skycap, Boston Logan Airport. "And let's be clear who this will help the most: black, brown and immigrant workers. I am proud to rise today to support this bill, now let's go!
"Airports keep us all connected, and it is airport workers who keep our airports running. Yet right now, a worker's zip code and background determine whether they can support their family," Mary Kay Henry, President, Service Employees International Union (SEIU). "Congress has the power to ensure that the billions of public dollars that fund airports each year go to We the people, not airline CEOs and shareholders. Today, champions like Senator Markey and Representative Garcia are acting on that power, heeding workers' demands for change.
"Improving wages and benefits for front-line aviation workers would solve industry-wide problems, such as high turnover rates, high job fatigue and stress, and high and persistent overtime due to understaffing", James McKnight, President, Communications Workers of America, Local 3146 in Miami, Florida. "The Good Jobs for Good Airports Bill would benefit essential workers, the flying public and the entire aviation industry."
###