Richmond International Airport (RIC) Celebrates 95 Years of Service to Virginia's Capital Region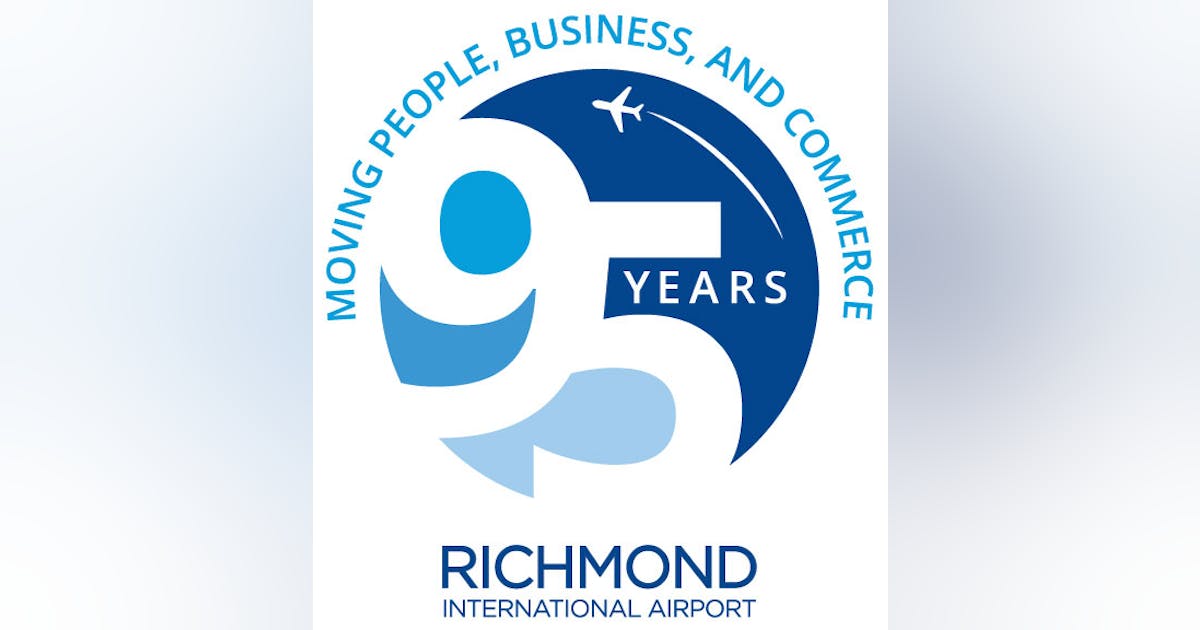 On October 15, Richmond International Airport (RIC) celebrates 95 years of serving the Virginia Capital Region. Officially opened on October 15, 1927, Richard E. Byrd Airport, named after Virginia explorer-aviator Admiral Richard Evelyn Byrd, opened. Among the guests present at the opening ceremony were Colonel Charles Lindbergh and his famous plane The Spirit of St. Louis.
"The RIC is proud to celebrate the contributions that have been made to the history and future of Richmond," said Perry J. Miller, AAE, IAP, President and CEO of the Capital Region Airport Commission. "We are excited about the upcoming opportunities to expand our mission by delivering an exceptional experience through convenience, innovation and excellence."
According to the Virginia Department of Aviation, RIC activities create nearly 16,000 jobs and contribute $2.1 billion to economic activity in the Richmond area each year.
Recent major milestones
2022
· Currently underway, the airline ramp expansion in Concourse B will include a two-lane de-icing pad, concrete pavement, and a collection system for used aircraft de-icing fluid (expected completion 2023).
· FAA infrastructure funding provided to renovate RIC's Federal Inspection Services (FIS) facilities to meet US Customs and Border Protection service facility standards for international travel. Processing. The improvements will help the airport accommodate more passengers and open the door to processing international arrivals.
· Breeze Airways launches new service to San Francisco (SFO) and Las Vegas (LAS).
· RIC unveils the "Welcome to Richmond" mural in Concourse A to showcase area attractions, boost regional tourism and connect with the community we serve.
· Airport tenants and RIC are working together to connect people with their careers by hosting the airport job fair. The event attracts more than 150 salaried candidates.
· RIC enables a queue management system, allowing passengers to save time by accessing TSA wait times in advance via desktop or mobile devices.
2021
RIC is expanding Concourse A to include six additional gates, addressing a pressing need for additional overnight aircraft parking and creating space for new restaurant and retail concepts, new restrooms and enlarged offices for tenants.
· RIC chosen as first airport for "Seriously Nice" Breeze Airways, David Neeleman's new carrier. The airline was launched with three initial markets: Charleston (CHS), New Orleans (MSY) and Tampa (TPA).
· RIC is developing the comprehensive Serve 2025 strategic plan to focus on delivering an exceptional customer experience through convenience, innovation and excellence.
· Southwest adds first-ever flights to Chicago Midway (MDW) and Denver (DEN).
RIC continues to protect the health and safety of its passengers by becoming one of the first 30 airports in the United States – and the first in Virginia – to be recognized by the Global Biorisk Advisory Council (GBAC) with an accreditation from STAR™ facility. The program is the gold standard for prepared installations.
· With the opening of the Concourse A extension, The Market on Broad opens its doors, spotlighting traditional Richmond dishes by showcasing local ingredients.
· The Capital Region Airport Commission hosts the POWER Together Business Opportunities forum to introduce disadvantaged, women-owned small businesses to airport buyers, concessionaires and contractors.
2020
· The region hosts Amazon Air Gateway operations, landing at the RIC and making us one of more than 30 airports in the leading cargo airline's network.
· New water bottle stations are installed. Three years later, they have filled the equivalent of 735,000 plastic bottles.
JetBlue is testing flights from Richmond to Los Angeles (LAX) and Las Vegas (LAS) during a difficult time of the COVID-19 pandemic.
2019
· The Capital Region Airport Commission appoints Perry J. Miller, AAE, IAP, President and CEO, as Jon E. Mathiasen, AAE, retires after nearly two decades at the helm.
· RIC receives the Most Innovative Green Projects Award in recognition of Virginia Green's environmentally responsible actions.
2018
· Richmond becomes Spirit Airlines' 62nd destination as the airline inaugurates new service to Orlando (MCO) and Fort Lauderdale (FLL).